My team at www.zindell.com has just completed  the development of the 'UNC Health Care Carbs Counter' application. We used Java ME. The application shall be distributed by 2Thumbz Entertainment.
Carbs Counter allows its user to track his carbs' consumption on a daily basis. All data is stored both on the handset and on the server. The data is accessible using the mobile telephone as well as using the desktop web browser.
You can find below a screen shot of this application version for the Black Berry handset.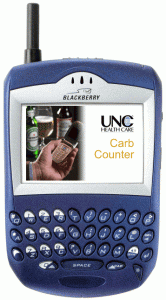 The following are screen shots that were taken using the Carbs Counter version for Nokia S60 handsets.