We have just completed to develop Python, Jacado new coming game. The gameplay is similar to the one you know in Snake, though it is much more sophisticated. It includes 20 different levels and allowing the player to control his speed it is possible to get more points.
This new game is available world wide. The first released version is for Nokia S60 handsets.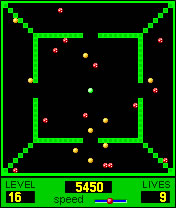 The following animation was taken using the Nokia S60 emulator.